Group Classes & Private Sessions

Group Drop-In Class Schedule
Health & Safety Protocols:
Please note that these policies are based on current considerations, information and government guidance and will be subject to change as the situation evolves.
we ask that all students, teachers and staff self-screen and please stay home if at all feeling unwell or symptomatic
Schedule Info:
– All classes are drop-in and open to everyone (unless it is listed as a Pre-Registered class)
– If you are a new student, you are welcome to drop-in to any class. All classes are suitable for all levels.
– Please arrive a few minutes before the start time so that you may sign-up, pay for class, and get familiar with the space.
**  All group class passes should be used within 1 year of purchase (or they will expire)  **

Class Descriptions:
Therapeutic Yoga
Experience individualized yoga in a group setting. This is a lead class where the teacher will facilitate each student to move at their own breath and movement capacity as we practice postures, conscious breathing, meditation, rest and relaxation.
Restorative Flow
Experience a gentle movement flow class with a focus on conscious breathing, restorative poses, meditation, rest and relaxation.
Gentle Flow
Experience a gentle movement flow class with a focus on conscious breathing,  meditation,  and relaxation.
Karma Yoga – (by donation only – pay what you can). Enjoy a yoga class (in the Fall and Winter months, the class will be a Restorative Flow class with candlelight) while also helping to support a good cause as all proceeds will be donated to various charitable causes in Toronto and India, including our Outreach Program.
All students are welcome.
Prana Restorative with Felicia – this is a paid ($40 total for each Friday class) bi-monthly workshop where pre-registration is required in advance. Partial proceeds will be donated to the Yoga Therapy Toronto Outreach Program.
Begin with gentle movement flows interspersed with Restorative postures (prop supported poses), followed by Pranayama (conscious breathing practices), and accompanied by Head Massage (with essential oils) and Yoga Nidra (guided relaxation meditation).
Friday Dates in 2023 (6pm to 8pm): Oct.20 | Dec.8 |
Friday Dates in 2024 (6pm to 8pm): Feb.2 | Apr.12 |
Subtle Tools of Yoga with Felicia – this is a paid ($40 total for each Saturday class) bi-monthly workshop where pre-registration is required in advance. Partial proceeds will be donated to the Yoga Therapy Toronto Outreach Program.
Experience how we move from gross towards subtle. Starting with conscious movements, focused breathing and pranayama, use of sound & mantra, guided meditation and philosophy, ending with relaxation.
Saturday Dates in 2023 (9:30am to 11:30am): Sep.30 | Nov.18 |
Saturday Dates in 2024 (9:30am to 11:30am): Jan.13 | Mar.2 |
Weekly Online Yoga Classes with Felicia – Join Felicia for 30 Therapy-focused practices, covering asana, pranayama, mantra, chanting, and meditation. These 30 Tuesday sessions will be held live on Zoom, but if you are unable to join live on Tuesday morning, then we will send out a recording of the class for you to practice later that day (please be aware that the link will only be up for 24 hrs, so please find the time to do the practice before Wed morning).
Dates: 30 Tuesday mornings starting on October 3rd, 2023 and ending on April 30th, 2024 (with no session on Dec.26).Time: 9:15am to 10:30amCost: $600 total (tax included).
There are no partial registrations available, only full registrations for all 30 sessions.
** Ongoing Workshops – Join us for select workshops throughout the year as we deeply explore the various tools of yoga, such as: meditation, chanting, philosophy, and psychology.
Please inquire about topics and upcoming dates.
**  All group class passes should be used within 1 year of purchase (or they will expire)  **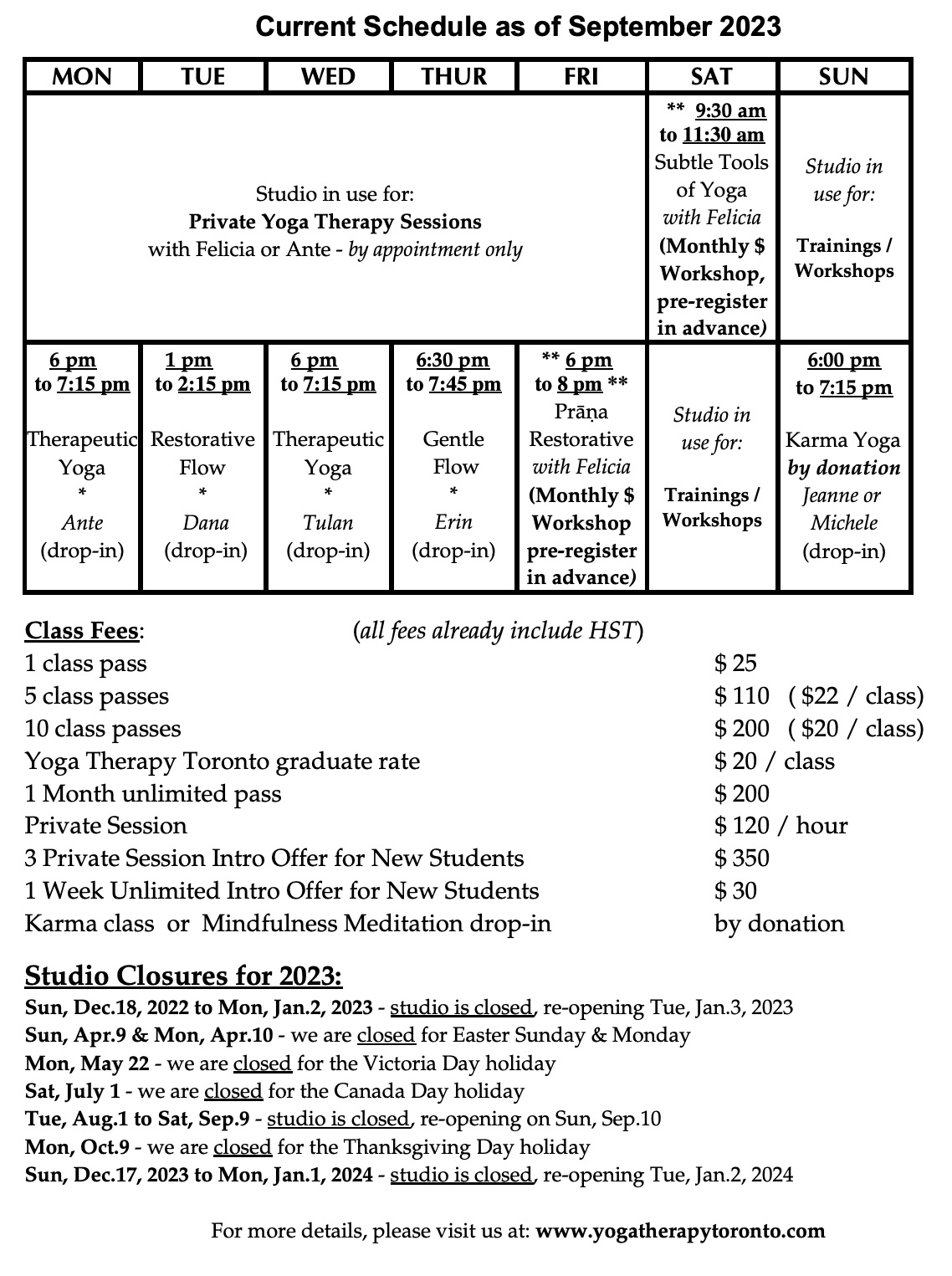 All of our sessions are taught on a one-on-one basis, unless there is a specific reason for teaching in a group setting. Instructing on a private basis allows us as Yoga Therapists to gain a deeper understanding of who you are, which will then allow us to plan specifically for your needs.
Once we understand your needs, we develop a personalized home practice that may include some of the following tools:
diet & lifestyle recommendations
conscious and mindful breathing
appropriately sequenced and individualized physical movements
deep tissue bodywork
meditative practices
visualization
use of sound and mantra
dream yoga
guided relaxation & yoga nidra
and more.
A typical first consultation and yoga session lasts 90 minutes.
Initial Consultation includes:
Intake: Inquiring and assessing student's health history, current treatments and medications, current physical, mental and emotional condition, and student's health and wellness goals.
Yoga Practice: Each practice is tailored to suit your specific needs, capabilities, goals, and life circumstances. We will then teach you this personal practice.
Take Home: Students will be provided an accompanying diagram of the practice to be done at home.
Follow-Up Sessions: All throughout this process, you are strongly encouraged to check in with the teacher with any questions, concerns or personal feedback. Depending on your needs, follow up sessions may be necessary in order to revise and update your personal practice. As you change, so must the practice.
We teach Yoga as a complementary system of health, not an alternative one. It supports and works in conjunction with your normal medical treatments, and we ask you to continue your personal health routine as suggested by your doctor or medical professional.
* All fees already include HST.
Private Session Fees – $120 / hour   (Felicia's rate is $150 / hour)
Please be advised that your initial Consultation, Assessment & Yoga Session is typically 90 minutes ($180).
*Please respect our 24 hour cancellation policy or full fees may apply.
Special Introductory Offer for New Students:
3 private classes (includes the initial 1.5 hr consultation and session, plus two 1hr follow-up sessions) for $350 (includes tax), for a savings of $70 off the regular price of $420.
Please note that all 3 sessions must be scheduled within 6 months of starting (they will not be carried over beyond 6 months).
All private sessions are by appointment only, so please call or email to schedule a session.
Energy Healing Facilitation (EHF)

:
EHF
stands for
ENERGY HEALING FACILITATION
.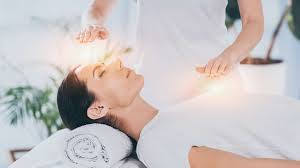 EHF is a healing modality presenting the healing practitioner with the new energy tools to work with.  The tools are energy enhancing modalities based on spiritual knowledge used to empower the PEMS (Physical, Emotional, Mental, and Spiritual) bodies promoting balanced healing for the whole human system.
During each session, the client will lie fully clothed on a massage table while receiving the energy healing treatment. Private Sessions (with Ante) available by appointment. Each session is 60 mins for $120 total (tax included). Please email info@yogatherapytoronto.com in order to schedule a session.
yoga therapy toronto outreach program
Welcome to Yoga Therapy Toronto Outreach Program.
Our mission is to identify, foster and deliver healing and life-affirming yoga sessions to people who cannot directly access these resources.
We partner with our teacher graduates and facilities and organizations to provide free yoga to under-served adults & youth in a diverse range of settings, including: recovery centres, shelters, healthcare facilities, correctional institutions, public schools, youth at risk programs and more.

We also provide ongoing mentorship and educational programs to support teachers in delivering Yoga Outreach sessions throughout the Greater Toronto community.

If you are aware of an organization who could benefit from our services, or if you would like to contribute your time, energy, or financial resources, please contact the studio at info@yogatherapytoronto.com or call 416-850-0015.