Trainings, Retreats, Workshops and Continuing Education
YOGA EVENTS, RETREATS & WORKSHOPS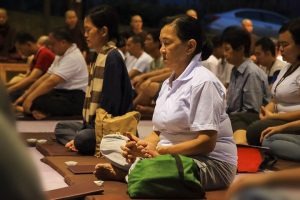 We will gather on the first Wednesday evening from November to April to participate in a 'spiritual community' – or what is known as a 'sanga.'
The purpose of this monthly meditation group is to practice together as a supportive community. We will begin with 10 minutes of conscious breathing practice to prepare the body and mind for sitting; followed by a guided seated meditation session for approximately 40 mins; and ending with 10 minutes of lying relaxation. The focus will be on mindfulness and how we can be fully engaged in life.
These sessions will be facilitated by Ante Pavlovic.
Venue: Yoga Therapy Toronto (located at 692 Bloor St. W. – 2nd floor, just one street east of Christie subway station)
Time: 7:30pm to 8:30pm
Dates:TBA – to be announced.
Cost: by donation only – pay what you can. All proceeds will go towards our volunteer Outreach activities helping those in need.
If you would like to find out more information, please call or e-mail.
All are welcome!
Silent Mindfulness Weekend – SPRING 2024
Retreat Dates: Sat June 15 to Sun June 16, 2024
This weekend silent  retreat will be held at a quiet and peaceful retreat centre where we will learn to slow down and perform all of our activities with mindfulness. There will be guided instructions throughout the various sessions as we mindfully explore Yoga, Pranayama, Meditation, Silence, Mindful Eating, Relaxation & Yoga Nidra, Tissue Release practices, Dharma teachings, Mindful Walking in Nature, and Forest Hikes.
Facilitated by: Felicia and Ante Pavlovic
The Location: The Retreat Centre is in Caledon (approximately a 75 minute drive from Yoga Therapy Toronto), and is located on 150 acres of forested trails (Bruce Trail), rivers and lakes.
Times:  The group will arrive on Saturday around 9am and depart on Sunday around 2pm.
Total Cost: $ 395 (includes taxes)
Includes: Private Room accommodation with Private Bathroom; and 4 Vegetarian meals.
If you would like to register, please email Yoga Therapy Toronto at: info@yogatherapytoronto.com.
Depending on spaces available, we may maintain a wait-list, so please register early. 
For those who require a ride up to the centre, there will be carpooling available.
If there are any specific food allergies, please let us know in advance.
RESTORATIVE YIN YOGA THERAPY TRAINING
Restorative Yin Yoga Therapy Training:
Spring 2024 – Sat, May 25 to Sun, May 26 (16 hours)
An experiential and theoretical exploration of the practice and art of teaching Restorative Yin Yoga Therapy.
The training will focus on Restorative Postures, Yin Yoga and Yoga Therapy and how to efficiently and effectively combine the methodologies in a practice session.
Some of the aspects we will be working with include:
• Restorative and Yin yoga poses (with and without props)
• Yoga Therapy & the Subtle Anatomy (prana, cakra-s, nadi meridians, etc)
• conscious breath work
• visualization
• guided meditation
• mindfulness practices for stress relief
• sound healing
• sequencing and teaching methodology
• ayurvedic head massage
• … and more.
An in-depth training manual (with photos) will be provided, as well as all necessary props.
No previous experience is necessary and all are welcome.
Instructors: Felicia Pavlovic, and assisted by Ante Pavlovic
Dates: 2024 – Sat, May 25 to Sun, May 26
• (plus 1 Friday evening where you will be assisting Felicia's Prana Restorative class)
Time: 9:30am to 5:00pm each day
Total Cost: $600 (tax included).
If you are interested, please contact us at info@yogatherapytoronto.com or call 416-850-0015.
Space is limited so please register early as we usually have a waiting list for this training.
AYURVEDA TRAINING FOR YOGA THERAPISTS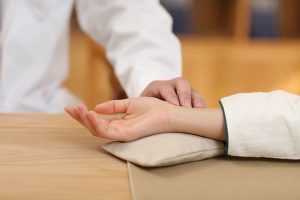 Ayurveda Training for Yoga Therapists – Level III: 120 hours
with Vaidya Nitin Shah
Instructor: Vaidya Nitin Shah
Location: Yoga Therapy Toronto
Dates: 20 Monday mornings – dates TBA
Time: 8am to 1pm each Monday session
Cost: $2,500 (includes all taxes).
Additional costs may apply for required texts and for all individual ayurvedic consultations (which are optional).
Eligible Applicants: This training is intended to be continuing education for yoga therapist trainees and is open to all students who have undertaken the Level II – Yoga Therapist Training at Yoga Therapy Toronto.
Maximum enrollment of 18, with a minimum of 10 required to begin the training.
Training Curriculum: 120 hours:  100 in-class hours and 20 hours of homework and project preparation.
This training is designed to deepen your understanding about Ayurveda and how to apply the principles as a yoga therapist.
Some of the relevant topics covered will include:
• introduction of Ayurveda
• history and philosophy
• the close relationship between Yoga & Ayurveda
• theory of tri-dosa as three mind-body operators
• mind-body type as constitution and their applications
• ayurvedic and yogic lifestyle
• common factors affecting our health and well-being
• signs and symptoms of imbalanced dosa-s
• pulse assessment
• tongue diagnosis and assessment
• ayurvedic nutrition protocols and pharmaco-dynamics of food
• ayurvedic treatment protocols for various conditions
• balancing dosa-s through diet, lifestyle, and medicines
• important ayurvedic herbs and formulations
• ayurvedic oil massage
• theory and practical application
• ayurvedic head massage using marma points
• sample case studies and therapist-student interactions
…. and much more.
If you are interested, please contact us at info@yogatherapytoronto.com or call 416-850-0015.
Vaidya Nitin Shah has been a practitioner, philosopher and teacher of Ayurveda and Yoga for more than 25 years.
He holds a degree of Ayurvedic Medicine and Surgery (BAMS) from Gujarat Ayurveda University, with further training in Yoga and Ayurvedic Surgery. In addition, he has completed a three year MD Doctorate degree in Shalya tantra (Ayurvedic Surgery).
Dr. Nitin has practiced Ayurveda in India for more than a decade prior to going abroad to teach in Europe and North America. His knowledge and experience is vast in the fields of Ayurvedic lifestyle management and dietetics, Ayurvedic panchakarma treatments, herbology, and the management of ano-rectal disorders with specialized Ayurvedic para-surgical procedure known as Kshara sutra.
YOGA SUTRA - CHANTING, STUDY & MEDITATION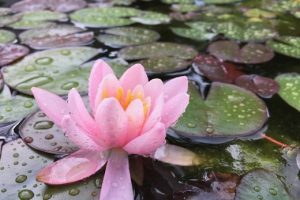 Yoga Sutra – Chanting, Study, and Meditation
This course is designed to explore the  Yoga Sutra-s on a deeper and more personal level. Each week we will adapt the meditation to the main themes and concepts so that we can understand yoga philosophy in an embodied way.
Patanjali clearly explains how Yoga refines the quality of mind, clears negative emotions, creates positive habits and behaviours, improves our relationships, and brings forth profound spiritual experiences.
Each session will begin with chanting, then sutra study and explanation, followed by a meditation (guided by Felicia) on the sutra-s discussed.
This course is open to all students, and all sessions will be held online (via Zoom invite).
Teachers: Ante and Felicia Pavlovic will be co-teaching
Dates: 8 Friday evenings – dates TBA
Time: 6 pm to 7 pm (EST)
Total Cost: $180 (includes taxes)
Venue: all sessions will be online (via Zoom)
To pre-register, please email info@yogatherapytoronto.com for details.
Instructors: Felicia & Ante Pavlovic
Chanting the Veda-s is one of the oldest and most important practices in the Indian tradition and it continues today with great enthusiasm. Handed down from generation to generation through a process of careful listening and exact recitation, Vedic chanting brings about a state of inner silence: a moment of stillness with profound ramifications for our spiritual journeys.
The Veda-s are the most ancient Indian text and the source of many of India's great philosophies. Vedic chanting is quite different from singing and from Kirtan. It consists of four notes, emphasizes precise pronunciation and is one of the best tools for developing concentration and peace of mind. It is a practice with many healing and health related benefits.
No previous experience is necessary and all are welcome
Workshops are typically run either in the Fall or Spring.
To find out when the next course is being held, please contact us at info@yogatherapytoronto.com or call 416-850-0015.